Dedicated To Your Content. Quickly at Your Side.
Agile Data Management
Media companies, agencies and marketers generate lots of data, and their IT departments are hard-pressed to keep up. These businesses simply can't do without instant access to a rapidly growing mountain of content and speedy recovery in the event of failure. And that makes agile, responsive data management a mission-critical task.
vjoon Storage engine cares for your data – let's have a look how it works:
---
Storing and Generating Snapshots:


Publication data structure including metadata is stored in a lean SQL database.


Layout, text, image, and video files are stored in the Storage Area. At the same time copies of these assets are saved in the Snapshot Area on a regular basis.


For a snapshot a copy of the SQL database is created and saved together with references of assets. A snapshot can be created manually or automated and time-controlled. The entire process is running in the background and the production is not interrupted.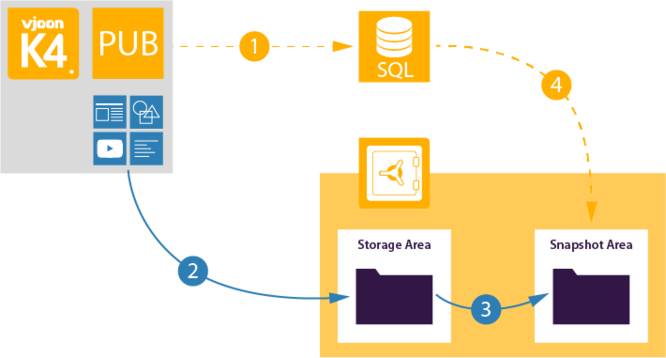 ---
Restoring a publication:


At first the lean SQL database including the publication data structure will be restored.


After this all users are able to start working again immediately. Until the files are fully restored to the Storage Area, users work with files from the Snapshot Area.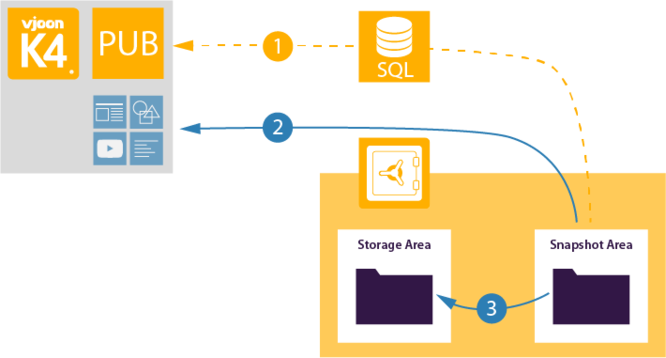 Highlights
Snapshots and Fast Recovery
Create automated snapshots of your assets on a regular basis
No need to stop working while snapshot is being created
Create snapshots at a click of a button or schedule an automated
Minimize downtimes through fast recovery
Efficient risk management for publications
Convenient admin client for effortless management
Ready for the Cloud
Runs entirely in the cloud
Mixed operation on-premises/cloud is possible
Interfaced with the high-performance Amazon S3 cloud service
Free choice of regionally available AWS data centers
Slashes CAPEX and OPEX
Lean Database
Shrinks the database's volume to a fraction of the original size
Database contains only the publication data structure, including metadata
Small footprint enables fast backup and recovery
Cloud, On-premises and Hybrid
In-sourcing IT has its benefits. Infrastructure can be run by company staff or provided as a managed service. Local networks are very fast and provide the means to isolate mission-critical data. On the other hand, customers who opt for cloud services enjoy great flexibility at lower CAPEX and OPEX. Computing performance and storage space are remarkably scalable, and can be upped at the touch of a button to keep pace with the company's growth. And with S3, Amazon offers a special type of object storage in the cloud that lets customers store and retrieve any amount of data, anywhere in the world.
Companies that opt for vjoon K4 and vjoon Storage Engine are free to run their publishing workflows and maintain all data on their in-house IT infrastructure. They may also use Amazon's highly scalable, cloud-based object storage for vjoon Storage Engine. Or they can port the whole package, vjoon K4 and vjoon Storage Engine, to the cloud. This freedom of choice puts media companies, agencies and marketers back in the driver's seat when it comes to their IT strategies.