A versatile database workflow system that lets you deliver your content to any output channel — web, print, tablet, mobile, and more.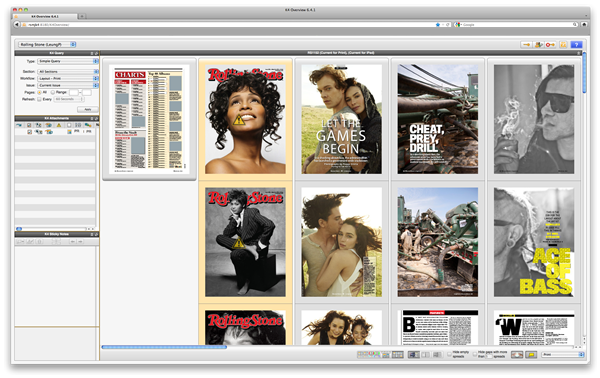 Cross-media input and output
Integral support for all types of content and for publishing to multiple channels — print, Web, tablet, mobile and more.
Enhanced workflow
Efficient, configurable task-based workflows with a convenient graphical workflow design editor.
Flexible connectivity
Multiple capabilities for remote contributors working via the Web.
Enterprise technology
Modern multi-tier database architecture with an intuitive Web-based administration interface.
Whether you produce magazines, books, newspapers, catalogs, brochures or annual reports, K4 provides the workflow tools that allow you to publish anywhere while running smoothly and efficiently — saving time and money while allowing you to expand your capabilities to increase revenue.
With K4 as the platform humming in the background, editors, writers and designers, along with their supervisors, focus on their own parts of the publishing process without getting in each others' way. Writing, layout, photo editing and editorial review proceed simultaneously and collaboratively.
Built-in automations streamline complex processes, including generating XML files for the Web and other digital destinations and Adobe Digital Production Suite .folio files for the iPad and other tablets.
K4 also combines distant locations into a single virtual office, allowing off-site contributors, freelancers and vendors to log into the system via an Internet connection with K4 Web Portal™. Administrators manage the system on the fly via the browser-based K4 Admin™, which features a graphical interface to set up explicit, granular workflows.
K4 provides a level of workflow transparency that lets everyone see what everyone else is working on, with database querying and automatic notifications that keep users up to speed about changes that affect what they're doing. Content protection, versioning and permission controls ensure stability and security.