Used at more publications worldwide than any other automated ad layout solution, ALS lets you manage issue planning and ad layout for any publication.
In just a matter of seconds, you can create a complete issue that can be opened in QuarkXPress or Adobe InDesign. With its accuracy, flexibility and robust feature set, ALS saves time, reduces errors and cuts costs.
You're in charge
ALS is powerful yet easy to use. You have complete control and can automate as much or as little of the issue-building and ad placement as you need. ALS builds runsheets and dummies and places ads and creates ad stacks according to your rules. You can program where ads go based on editorial-to-advertising ratios and color configurations while still accommodating special considerations such as coupons, section or page orders and customer requests. It even produces reports. In short, it does everything you need and much more!
Any type of ad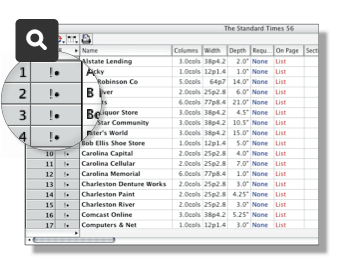 ALS supports unlimited ad types and imports them from your order-entry system as many ways as you need, including bringing over late inserts, updates and kills. Information such as ad name, number, size, color, coupon status, market, advertiser, requested section or page and pickup instructions are poured directly into a runsheet for easy review and manipulation.
Put ads in their place
Once the issue is set and the ads are imported, you can flow them automatically, letting ALS choose the placements based on your rules. You can also drag ads out of the runsheet individually, or use the Layout palette to direct them in specific ways, such as a specific group of ads to be distributed evenly throughout a section.
Size things up
It can be tough to determine how many pages are required to satisfy advertising and editorial goals, particularly when some of the ads aren't in yet. ALS streamlines that task even before ad layout begins. The Pagination Manager can calculate optimal issue size based on criteria you set, such as existing and projected ad linage, minimum page count, budgeted editorial-only pages and target ad ratios. The powerful Color Configuration Manager lets you define and store unlimited press configurations, complete with setup and runtime costs, so you can quickly determine the impact of any color request.
With ALS, you make intelligent pagination decisions that cover all the "what-ifs."