An automated ad-layout solution built specifically with magazines in mind. In just a matter of seconds, you can have a fully paginated, accurate and functional ad dummy that can be opened in QuarkXPress or Adobe InDesign.
Go digital
ALS for Magazines fits right into today's new workflows, providing tools for electronic issue planning and ad mapping that eliminate laborious, manual processes and provide automatic integration of digital advertising to editorial pages. With ALS for Magazines, you can eliminate ad placement errors and make-goods, reduce production time, and streamline digital workflows.
Keep your magazine moving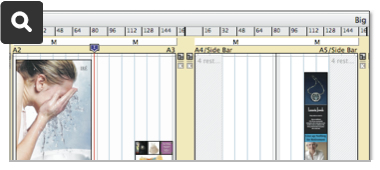 When you need to make critical changes and still consider competitive conflicts, placement commitments, color locations, ad-to-edit ratios, form breakdowns, editorial requirements, binding issues and printing costs, ALS for Magazines is the tool you need. With its accuracy, flexibility and extensive feature set, ALS for Magazines saves time, cuts costs and increases the efficiency of your workflow.
Spotlight on special needs
ALS for Magazines includes modules to address unique magazine publishing challenges.
Editions: Track ads through multiple editions and zones, keeping all those placements straight while flagging conflicts and providing immediate access to specific issues.
Forms: Automate and manage forms or incremental issue breaks, ensuring quick placement of inserts, new forms or forms templates.
Sections & Bookings: Match standard configurations for editorial space, along with statistics for actual editorial linage, with advertising requirements.
StatusWatch and ImageView: StatusWatch interacts with a database or management application to track advertising and editorial production. The optional ImageView displays any ad that has a digital file name and path information.
HTML Report Generator: Build customized reports or select from pre-defined templates. Export as text, XML or HTML for browser viewing.