Cost-effective, easy-to-use advertising layout and issue management software for small- to mid-size publications.
AdForce users can quickly build ad pages using drag-and-drop or semi-automated flow tools. Finished sections can be opened in QuarkXPress or Adobe InDesign for pagination.
Flexible and functional
Translate ad sales into ad geometry easily starting with virtually any order-entry system. Information such as ad name, number, size, color, coupon status, market, advertiser, requested section or page and pickup instructions are poured directly into the AdForce runsheet for easy review and manipulation.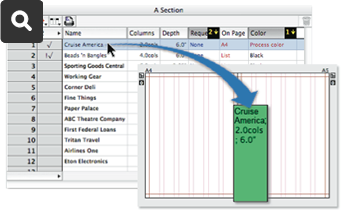 With AdForce, you create pages and place ads exactly the way you want them to appear. The system's features include definable issue gravity, ad-to-editorial ratio, advanced color support and monitoring of conflicts, including coupons, reverses and ad-vs.-page color.
A 'right-sized' solution
AdForce is the perfect toolset for publications that don't need the level of customization provided by MEI's Page Director ALS.