Training for AEM Mobile
It's the emerging standard — learn it from the pros.
Let MEI train your creative team in how to use the InDesign Overlay Creator panel to build, produce and place interactive elements — hyperlinks, slide shows, 360-degree viewers, audio, panorama, video, Web views and pan-and-zoom — and how to drive the InDesign Folio Builder panel to create tablet-ready Adobe .folio files. MEI trainers will also guide students through uploading .folios to Adobe's hosting service for testing and distribution.
Application Creation and Submission
Learn to navigate the digital publishing marketplace.
Wondering how to submit an app to the Apple Store or Android Market? An MEI Solutions Specialist can provide one-on-one training on creating certificates and application keys, building branded applications and getting them on the market.
On-Site Production Management
Need oversight? MEI can keep you on track.
Bring in an MEI Production Manager to oversee the launch of your new tablet project. This extra production attention can complement your existing resources to ensure the development of proper time lines and allocation of appropriate resources to help ensure you meet crucial deadlines.
On-Site Support
We'll partner with your tablet-publishing team.
Having an MEI Solutions Specialist on site during production to field questions, troubleshoot and escalate support issues to Adobe can be a boon to your team, especially if you're still working out the procedures necessary for a successful tablet edition close.
Preflighting and Optimization
Let MEI review and troubleshoot your .folio files.
MEI's production team can identify and diagnose potential problems and spot ways your files can be optimized to produce a smaller, more efficient download package and an improved experience for content consumers.
Advertising Primer
We help U sell
An MEI Solutions Specialist can educate your advertising team on the treatments and features available for tablet advertising and the benefits of interactive approaches, as well as the steps you should consider as you preflight materials supplied by advertisers. The Solutions Specialist can also assist you in augmenting your ad specs to include standards for interactive content.
Premium Adobe DPS Support
Extra insurance for your tablet workflow.
If you're looking for a backup plan to ensure your app production workflow is always running smoothly, we offer several tiers of premium monthly support for Adobe Digital Publishing Suite customers. This service includes support for Adobe InDesign, the Folio Builder plug-in and the creation of DPS-ready interactive content; DPS hosting services; and platform-specific app developer programs supported by DPS (Apple iOS, Android, Amazon, etc.). You'll also have access to the MEI Customer Support Portal and a library of frequently asked questions.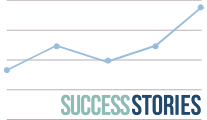 Learn how MEI products and MEI pros have already benefited our clients. Read more.