For over 25 years, Marcolina Designs has provided innovative design for print, digital, mobile and web. The agency works with regional and national companies to share their brand and story, by delivering unexpected, memorable design solutions that are cohesive across media. Owner, Dan Marcolina, sat down with Nervous Pixel, a division of MEI, Creative Director Will Steuber to discuss how Marcolina Design brings content to life.
Can you tell us a bit about your design philosophy? As a firm, we have a more conceptual approach, striking a balance between look and feel. Whereas a more traditional design firm will just focus on the look.
For me, good design creates an a-ha moment. It's something we always strive for in our work; some unexpected twist that visually or verbally brings home the client's message. It makes the subject more memorable. I was a magician as a kid, and have carried that love of magic over to my design work. I want to provide an element of surprise. My goal is to surprise and engage viewers.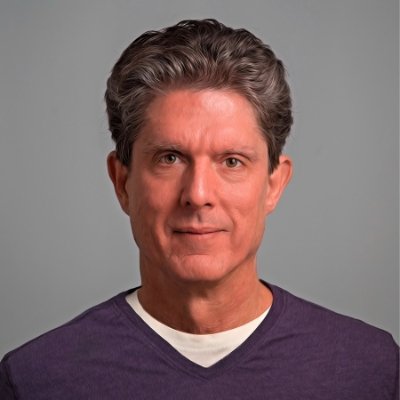 How do you leverage content to shape the user experience? When a project comes in- either digital video or print- we anticipate and promote to the client how we might translate the content to other channels. It's more than replicating the look. It is translating the essence and utilizing the medium to its fullest potential to extend the relationship and dimension of the brand.
The experience is guided by the platform. In print, you can try to guide the viewer through layout and visual pacing, but they could easily start reading from the middle or end; completely missing all your "choreography" work.   With web, you are never sure how the viewer will access the content. The speed and size of the screen all vary so you have to design for the lowest common denominator. This can be very limiting and complicated from a code stand point. But with tablet, I can design with confidence and really shape the viewer's experience. I can anticipate most of the variables, like speed and size of screen, and can add unlimited types of visual enhancements like video, sound, and interactive. That's where you can build in those surprises. The little moments to create an experience through the look and feel. For me, designing for tablet is the most satisfying and where you can come closest to delivering the design vision.
So you are designing the story for the vehicle, right? Exactly. Replica apps are just delivering the same content across platforms. It falls flat. There isn't a chance to offer those little magic moments, because you don't know how the viewer will access the content. Content should coexist across platforms, not mirror each other.
Do you see what you are doing as immersive storytelling? Absolutely. It comes back to my early desire to bring print graphics to life. It is what I am most interested in: creating engaging and immersive experiences for audiences. It is bringing the content and message to life in surprising ways, and making the experience interactive.
What are working on now? Over the course of your career, what medium have you worked in most? Over the course of my career, I have probably done the most work for print, but right now, a lot of my work is focused on motion graphics and augmented work. I am hoping to do more for tablet.
One of the reasons I enjoy designing for tablet so much is that it combines everything I have learned over the course of my career. It is where motion graphics, print design, and video converge.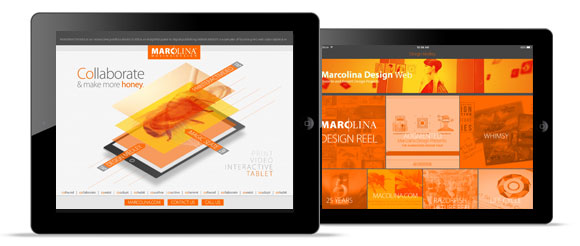 Adobe Senior Art Director, Russell Brown said you cross mediums from print to interactive to motion very well, and therefore represent a good example of the New Designer. Do you have any advice for young designers? What knowledge do you think designers today need to have? My advice would be: learn 3D and After Effects. Designers today have to speak the language of print, digital, mobile and web. So you need a lot of tools in your toolbox to be able to successfully deliver your message across those platforms. The more skills you can develop the more flexibility you have to be creative.
I'd also recommend Twixl Publisher for tablet and app design. It's an affordable option and does not require coding knowledge, so it's more accessible. You can convert DPS content and create the same type of overlays; it's a great tool for designers. We actually create our promotional pieces using Twixl.
Marcolina Design Inc. founded and operating since in 1990 by Dan and Denise Marcolina. Marcolina Design is a digital experience agency, with a portfolio that includes print, interactive, video, and augmented work. Clients include: Adobe, Johnson & Johnson, Discovery, and Fox Sports. Marcolina Design is based in Ambler, Pennsylvania.