In the spirit of the holiday, MEI's Creative Director Will Steuber and Senior Director of Business Development Brett Kizner began our President's Day webinar by acknowledging how White House communications and national media coverage have changed significantly in the age of technology. Harkening back to the days of President Lincoln's Gettysburg Address, the audience of the American people could only receive messaging through one channel, at one time. Comparatively, in today's world of mobile technology, presidential communications are as frequent and ubiquitous as any other content out there – and streamed through multiple channels, multiple times a day.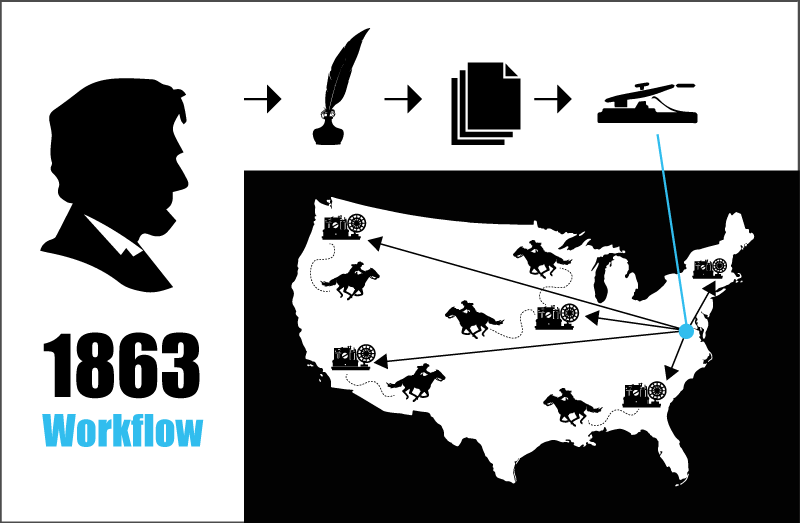 The frequent distribution and multi-channeled access to presidential communications today is not unique to the White House: there is a clear demand and expectation for content from all industries to instantaneously be multi-channel ready. To meet this demand, it is important for content to have adaptability built in during the initial production stage. This was conveyed to the audience by Creative Director, Will Steuber:
"To have an effective content creation plan, there are a few challenges that we must address: First, there's distribution. You [need] to be able to distribute to multiple channels, different devices, different screens. Then there's the production of content, that needs to transcend [a single] channel."
Using a content production sample appropriately featuring the Gettysburg Address, Steuber and Kizner demonstrated how TruEdit enables your content team to manage all aspects of multi-channel content production in one centralized, cloud-based location. TruEdit allows your team to keep all elements, metadata, and various treatments of content pieces grouped together in one collaborative structure. All content produced with TruEdit is responsive, so your team can see how it will appear on each mobile device or output channel.
Can you imagine the even greater profound impact the Gettysburg Address would have had, with such multi-channel production capability? Watch the webinar and see the full TruEdit demo here.