TruEdit and Twixl Power New NEA Today Magazine App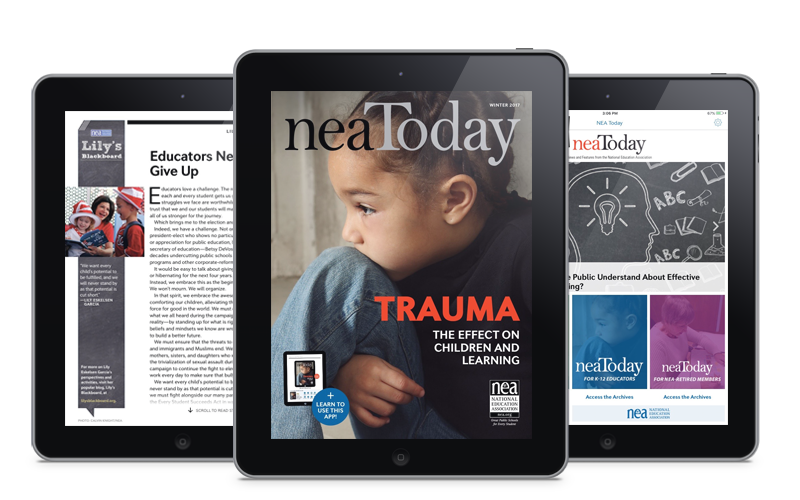 National Education Association and Network Media Partners Launch New NEA Today Magazine Mobile App—with Workflow Powered by MEI's TruEdit and Twixl Publisher
The National Education Association (NEA), the nation's largest professional employee organization, is committed to advancing the cause of public education. NEA members work at every level of education—from pre-school to university graduate programs. The Association has affiliates in every state and in more than 14,000 communities nationwide.
This spring, NEA debuted a new version of the NEA Today magazine app, which is now available to the organization's 3 million members. This launch represents a major accomplishment, made possible by the Network Media Partners design team, and the TruEdit HTML content creation and Twixl Publisher mobile app platforms.
"NEA wanted to increase advocacy and engagement among our members, and we also wanted to reach new pro-public education audiences by expanding our digital footprint into the Apple and Android marketplaces," says Earline Spence, who led the project from concept to delivery.
The original application was produced using Adobe's Digital Publishing Suite (DPS). That version lacked a number of components that NEA had envisioned, and with fewer than 1,000 downloads during the first 18 months of the apps existence, the project was minimally successful.
"Our annual survey readership results found that very few NEA members realized that an app version of the flagship magazine existed," Spence says. "The need for a new approach was clear, so we launched an extensive RFP process, during which we selected Network Media Partners for development of the new application, and Weber Shandwick to build a cohesive marketing strategy."
To boost results, Network created a new content strategy with NEA, and started work on a redesign of the NEA Today app using Twixl Publisher. Network also partnered with Managing Editor Inc. (MEI), provider of TruEdit and North American reseller and support partner for Twixl Publisher. MEI worked with Network to integrate TruEdit and Twixl Publisher to enable Network to develop and implement the new NEA Today app. The results have been exceptional, and more than 1,800 downloads occurred during the first 3 months alone.
"The new app is more intuitive, and we've been able to integrate content from many NEA Today vehicles—not just the print magazines. The redesigned app also includes a carousel on the home screen which allows us to continuously publish fresh content on a weekly schedule," says Spence.
There have been additional benefits to working with Network and for using Twixl Publisher, Spence continues. "Network has been an incredible partner throughout the development process. They came to the table with fresh ideas and provided excellent support and expertise in a way that made things very easy on the client side," she says.
"Plus, our costs are down 80 percent. The transition from Adobe DPS to Twixl Publisher with Network as partner has been a seamless, win-win situation."
Jen Smith, vice president of creative strategy for Network Media Partners, cites her team's intentional design process as key to the project's success. "The technology allows us to publish continuously and integrate three NEA Today titles and audiences," she says. "Also, we've built content that is specific to each device, so it's pixel-perfect for iPads and responsive for smartphones."
With the new digital app up and running, NEA has begun to use it for events, like the organization's annual conference. Plans for an NEA podcast are underway, and the association will publish digital magazines more frequently, offering custom versions for various NEA audiences, including students studying to become educators, new K-12 teachers, and higher education professionals.
To ensure digital reader adoption rates continue to grow, NEA will continue to enhance the magazine app.
"Network's creative design and app-building expertise, coupled with the power of the TruEdit and Twixl Publisher platforms, has drastically enhanced NEA members' digital experience," says Spence. "We are confident that Network will continue to help us deliver quality digital products to educators in the months and years ahead."