K–12 science publisher dramatically reduces time-to-market with cloud-based collaboration and workflow solution
Founded in 1963 by a science teacher from Long Island, N.Y., LAB-AIDS is a K–12 educational publisher dedicated to hands-on learning in science classrooms. The company enriches the science classroom experience by providing educators with the materials and equipment they need to execute science experiments with their students.
By partnering with the UC Berkeley Lawrence Hall of Science and other scientists and teachers, LAB-AIDS produces course materials in agriculture, biology, chemistry, earth science/geology, environmental science, and physics. As its business has grown to encompass the complete science curricula it offers today, LAB-AIDS has become a leader in inquiry-based learning for middle and high schools across America.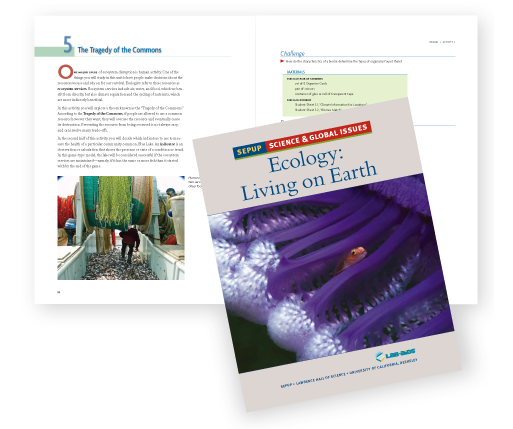 Project teams comprised of subject experts from around the country collaborate to create innovative LAB-AIDS course curricula, such as the popular Science and Sustainability series.
Challenges
Like many K–12 publishers, LAB-AIDS produces graphically rich textbooks that undergo a long and complex editing process. Each textbook project is comprised of team members working in various locations—including science professors and teachers who author the content, an overseer, a content manager, project managers, and designers— who work together on a single textbook.
The textbooks undergo extensive changes, both in Microsoft Word and after content is flowed into the Adobe InDesign layout. With up to four books in various stages of production at any given time and a manual, paper-based workflow for job trafficking and coordinating revisions, the LAB-AIDS publishing staff had a challenging job.

"We would develop the content, send the document to the next reviewer, and that person would work on it and print it and send it back," says Denis Baker, Vice President of Product Management and Marketing for LAB-AIDS. This print-mail-edit cycle would repeat for each unit of the book until all revisions were approved. "We burned up a lot of time having the printed documents in transit," says Baker, "and we were always wondering where things were. It was a bit of a mess."
The entire process took up to nine months for a single textbook. Any delay could be costly, particularly if it meant missing the opportunity to be considered for new course curriculum materials in a large school district. "It wasn't a sustainable model, for our business or for our customers," says Baker.
The Solution
LAB-AIDS began looking for an automated solution to help streamline its content development and production processes and get its books to market faster. The company preferred a cloud-based solution, both to make fewer demands on its small IT staff and to give its distributed content teams 24/7 access to the in-progress textbooks. The system had to be easy to use, with a short learning curve to enhance productivity, and it had to provide the publishing staff with the flexibility to design their own workflows. It also had to integrate with the desktop tools the staff and contributors were already using to author and produce their books and course materials.
"We had about 12-15 technology solutions on our big list, and then we got it down to three finalists," says Baker. Price mattered to LAB-AIDS, but they also needed a system that would allow staff to become proficient without taking up a lot of time.
The company ultimately chose MEI's TruEdit. "Sixteen months in," Baker admits, "and I can't even remember our second and third place finalists." Now, instead of routing paper documents and proofs via FedEx, editors and authors can collaborate online, and they can track their assignments, and see a document's status from anywhere they are. Authors can still work in their preferred program, Word, and then changes from Word are fed into InDesign and web templates.
MEI also customized TruEdit to enable LAB-AIDS authors and editors to apply curriculum standards throughout a manuscript and carry those through to final pages. "The customizations were handled well," says Baker. "Our staff is detail-oriented, and they're very satisfied with how standards-tracking was implemented."
Baker says the rollout of the TruEdit system went smoothly. "MEI trained our staff using real content and created a workflow that fit our requirements," he says. "Between that training and their tutorial video library, we have everything we need."
The Results
The LAB-AIDS team has had great success with TruEdit. "The system has allowed us to decrease downtime and increase our focus on content-related tasks," says Baker. "We can now have more balls in the air, create with better quality, and work faster." He reports 30 to 40% productivity gains so far, with an expected increase to 50% over the next two years.
Baker also reports that, in just over a year, TruEdit has enabled LAB-AIDS to triple the number of custom curricula it can produce to bid on specific state adoptions. And where the team used to refresh the copyright on each title every six to seven years, with TruEdit they can now ramp up their timelines and refresh about every four years.
TruEdit has helped strengthen the company's financial position. "It has saved us time, which is always money, and it has shortened our development window, which is also money," he says. "From a productivity perspective, we're making more money by limiting expenses. And the better we get at it, the more nimble we'll become, and we'll be able to compete even more effectively."