A very special evening was had by all at the annual Advertising Production Club Holiday Bash held at the Microsoft Technology Center in Time Square on Monday evening, December 19th. MEI's East Coast executives Deena Guagliardi and Carolyn Brown Okay attended the event.
The Graphic Communications Scholarship and Career Advancement Foundation (GCSF) in collaboration with IdeaAlliance, the Advertising Production Club of New York, the Art Directors Club, the One Club, the Navigators and the Printing Industries provides scholarships and financial aid to New York City metro area students interested in pursuing careers in graphic communications. Students receive money for college, mentoring support, internships and other work/study opportunities.
Last year the group raised a record $160,500 which was awarded to 41 New York City metro area students pursuing careers in graphic design, production and publishing. The Advertising Production Club of New York (APCNY) raised almost $100,000 with the IDEAlliance, Printing Industries Alliance and The Navigators raising the rest.
Attendees were asked to bring a gift for a child in need for Harlem Children's Zone. Raffle tickets were sold and winners were presented by GCSF Diane Romano and President Jerry Mandelbaum. Several of the mentees were on hand to help with the raffle, take pictures and mingle with the group.
Jessie Ann Murphy, a recipient and co-liaison Student Mentor for GCSF Scholarship foundation who attended with her mother, raved about the incredible support and opportunities provided by the Foundation. Jessie stated that without this support, she would likely still be in school and paying off large student loans like many of her friends. Jessie has held several internship positions and other work opportunities. She is currently working as an advertising designer and provides graphic design, branding, print collateral and logo development services to a variety of clients.
The Advertising Production Club of New York City (APC-NYC) is a community of production professionals in traditional, digital and emerging media. The APC provides educational programs and networking opportunities designed to keep members informed about new technologies, best practices and industry trends. Proceeds from this year's event will help fund the GCSF Graphic Communication/Art Students scholarships with every single dollar of profit goes directly to talented students interested in pursuing careers in Graphic Arts and/or Media Production.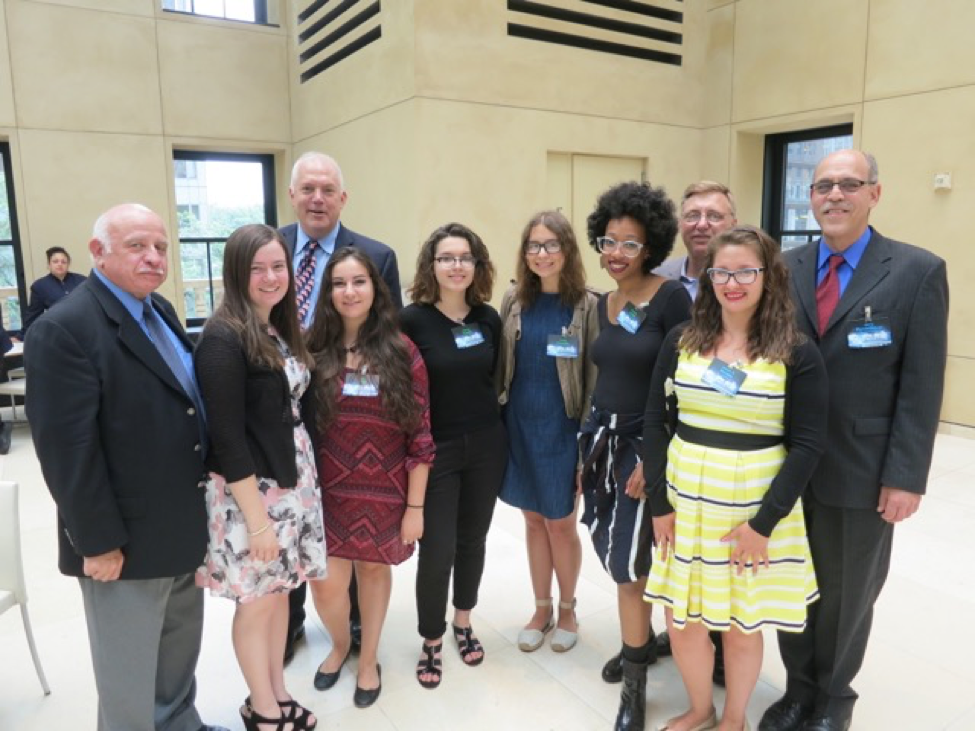 Photo: Courtesy of Metro Graphics Reporter
Pictured: Mentees and mentors from left: Jack Kott, Valerie Buonaiuto, David Luke, Lea Orsini, Allyson Gonzalez, Emilia Dabrowska, Roxana Santana, Nick Patrissi, Jessie Ann Murphy, and Jesse Mandelbaum.
Top photo by Cherise Coleman